Investing in CPR classes Cincinnati
is crucial to safeguarding your team and customers.
The truth is, when emergencies strike, the difference between chaos and control often boils down to…
CPR training. Yes, you heard it right.
Businesses can move from merely surviving to thriving by taking a proactive stance toward safety. But here's what separates companies that survive from those that thrive…
A proactive approach to safety.
For instance, one business owner told me how her employee's quick response during a cardiac emergency saved a customer's life – thanks to their recent CPR classes Cincinnati.
Maximize Employee Safety with Onsite CPR Classes Cincinnati
In the face of emergencies, it's essential to have employees who are equipped with lifesaving skills. This is where Cardiopulmonary Resuscitation (CPR) training comes into play. It provides individuals to act promptly and effectively when someone experiences cardiac arrest or stops breathing.
By providing employees with the knowledge and skills to respond in a cardiac emergency, this kind of readiness promotes an atmosphere that values worker health and safety above all else.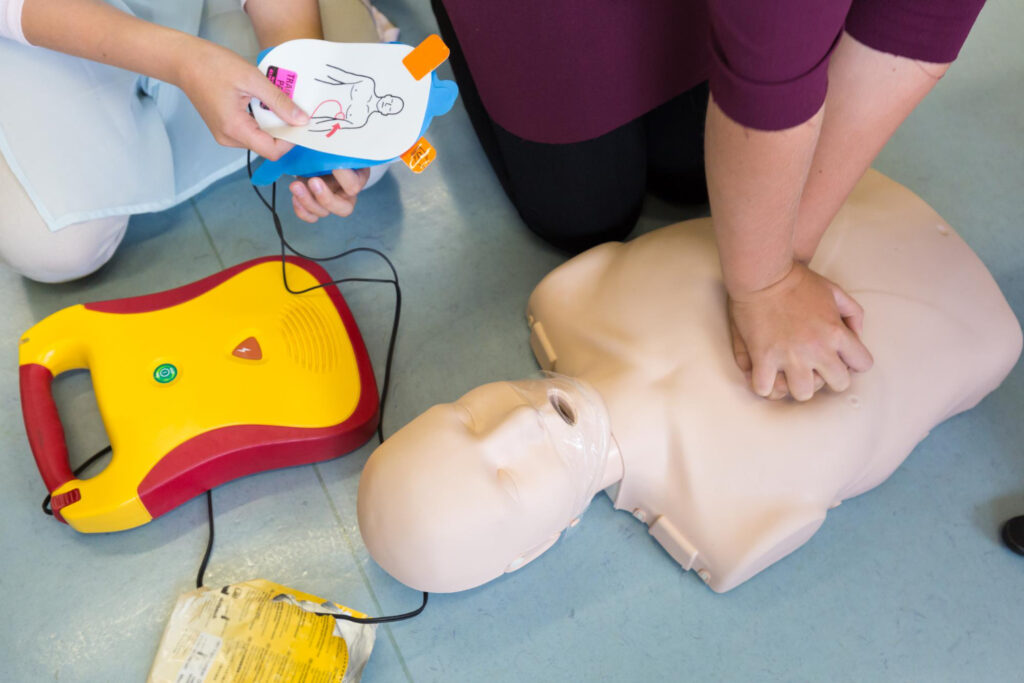 Onsite CPR training offers hands-on experience under certified instructors' guidance right at your workplace – eliminating travel time while providing practical learning in a familiar setting.
CPR pumps oxygen-rich blood: The process involves chest compressions which help pump oxygenated blood throughout the body, keeping vital organs alive until medical professionals arrive.
Aid during critical moments: In a cardiac emergency, time is critical; immediate action may mean life or death.
Earn full certification: Upon completion, participants earn full certification recognized across the nation, enhancing their skillset further.
Benefits of Onsite CPR Training
In the realm of workplace safety, onsite CPR training is a game-changer. It's not just about knowing what to do when an emergency strikes is so much more than that.
Your organization can reap some critical advantages from implementing this lifesaving initiative.
Safety Boost
The primary benefit? Enhanced safety measures. When employees undergo CPR training, they become potential lifesavers during cardiac emergencies in the office or onsite, significantly increasing survival rates before medical professionals arrive.
This isn't limited to heart-related crises; comprehensive courses also cover essential skills like managing choking incidents and handling severe bleeding, all contributing to a safer work environment.
Rise in Employee Confidence
A lesser-known advantage of providing onsite CPR classes Cincinnati is the confidence boost it gives employees. Knowledge empowers people; with clear steps for tackling emergencies, panic takes a backseat, while decisive action becomes second nature.
This newfound self-assuredness extends beyond crisis scenarios into everyday activities, too, and a confident workforce means improved engagement and productivity levels overall.
Fiscal Savings Potential
Specific industries need trained first aid providers present at all times as per regulations, and onsite certification fulfills this requirement without additional staffing costs for dedicated medical personnel.
If you're considering outsourcing these services, think again. Travel expenses get eliminated by conducting sessions right where your team works every day (main campus).
You might even qualify for insurance discounts once you have certified staff members, an added fiscal bonus.
Nurturing A Culture Of Care And Responsibility
Last but certainly not least: regular onsite training communicates your commitment towards employee welfare loudly and sends a message that resonates strongly with morale and loyalty levels. When workers feel valued by their employers, job satisfaction and productivity increase, an unexpected yet welcome side effect of investing in crucial lifesaving skills.
Important Takeaway: 
Onsite CPR training is a real game-changer in workplace safety. Not only does it equip employees with lifesaving skills, but it also boosts their confidence and productivity. Plus, it fulfills regulatory requirements without extra staffing costs and fosters a culture of care—making your team feel valued.
Find Quality CPR Classes Cincinnati with EMC
Finding the right provider for your team's CPR training is no small task. It's about more than just ticking a box; it's about ensuring that, should an emergency occur, your employees have the skills and confidence to respond effectively.
Selecting Your Training Program
So how do you choose from among all those offering classes? The first step is understanding what makes a program effective. At EMC, we don't accept that a single solution is appropriate for everyone. Instead, we assess factors such as workforce size and potential risks to tailor our courses accordingly.
We understand each organization has unique needs which can only be met by providing customized learning experiences during their Red Cross CPR training sessions.
Certified Instructors & Comprehensive Curriculum
The quality of instruction matters too. Our instructors are certified professionals who use interactive teaching methods to ensure participants fully grasp critical concepts like cardiac arrest response techniques or sudden cardiac arrest management procedures.
Beyond basic cardiopulmonary resuscitation (CPR), our curriculum covers advanced topics like using Automated External Defibrillators (AEDs) and managing choking incidents – vital knowledge when patient families' lives may depend on quick action.
Affordable Pricing & Flexible Scheduling
Safety education shouldn't break the bank nor disrupt normal operations excessively – these principles guide us at EMC while crafting affordable pricing options without compromising content depth or class quality.
Moreover, recognizing today's busy schedules, flexibility remains paramount. Hence, weekend classes or after-hours sessions feature prominently within the scheduling choices, maximizing participation rates across various shifts. Earn full certification now before your current certification period nears its end.
Click here for further details regarding services available throughout the Cincinnati area.
Important Takeaway: 
EMC offers tailored, high-quality CPR training in Cincinnati. With certified instructors, a comprehensive curriculum covering advanced topics like AED use and choking management, affordable pricing options, and flexible scheduling, EMC ensures your team is prepared for emergencies without disrupting operations or breaking the bank.
AHA, ARC, and HSI Programs for Onsite Training
There's no denying the importance of onsite CPR training. It's a necessity in today's world, where safety is paramount. But how do you choose between programs offered by top-notch organizations like American Heart Association (AHA), American Red Cross (ARC), or Health & Safety Institute (HSI)? Let us help you navigate through this.
The American Heart Association Approach
AHA stands tall with its scientifically-backed CPR courses. They offer comprehensive modules catering to adults, children, and infants alike – teaching everything from basic chest compressions to an automated external defibrillator (AED).
What sets AHA apart? Their flexibility. Choose between classroom-based or blended learning, combining online coursework and hands-on skills sessions.
Dive into The World of the American Red Cross
In line with their commitment to community welfare, your local American Red Cross offers high-quality CPR classes adhering strictly to guidelines set by professional health bodies worldwide. From certification classes to review courses as your certification period nears – they've got it all covered.
Beyond just teaching first aid procedures such as rescue breaths and chest compressions – they also emphasize recognizing when someone needs CPR, thereby making trainees better prepared during emergencies at work or home environments.
Navigating Through Health & Safety Institute
Focusing more on emergency response teams in non-EMS settings but equally applicable across various industries. This is due to their high-quality content based on the latest medical science knowledge about cardiac arrest treatment methods. These include effective chest compression technique instruction, among other aspects relevant during life-threatening situations requiring immediate intervention are the hallmark features of HSI's programs.
Their courses ensure that your employees get only top-tier training enhancing safety within the workspace while instilling confidence amongst staff members knowing they're equipped to handle potential crises effectively, potentially saving lives one day too.
Important Takeaway: 
Choosing between CPR programs by AHA, ARC, or HSI can be daunting. AHA offers scientifically-backed courses with flexibility in learning methods. ARC focuses on community welfare and comprehensive training, while HSI emphasizes emergency response teams' needs in non-EMS settings. All aim to equip trainees effectively for emergencies, enhancing workplace safety and confidence.
AED Sales and Program Management
Automated External Defibrillators (AEDs) are a vital component in the comprehensive safety programs of businesses. These devices can be lifesavers during sudden cardiac arrest scenarios.
Picking the Right AED Brand for Your Needs
The selection process for an AED is not something to take lightly. It's crucial to opt for reliable brands that have proven their effectiveness over time, such as the major ones we offer at EMC. Each brand has unique features, so understanding your needs before choosing is essential.
An effective program involving Automated External Defibrillators goes beyond just purchasing equipment; it encompasses training staff on proper usage, regular maintenance checks, ensuring easy accessibility during emergencies, and more.
We provide holistic program management services covering all these aspects – from developing policies around using new equipment to conducting routine inspections and managing replacement parts when needed. We also ensure your team gets adequate training along with refresher courses periodically.
Navigating Legal Requirements Around the Use of AEDs
Legal requirements for using Automated External Defibrillators vary by state – some mandate registration with local EMS agencies or compulsory reporting after each use, while others may require medical oversight or periodic device check-ups. Our consultation services help businesses understand their obligations under the law regarding this aspect, thereby promoting safer workplaces overall.
Beyond Just Selling – Comprehensive Support Services
We don't merely sell you an automated external defibrillator (AID). Instead, our expertise extends into creating custom onsite CPR/AID training programs designed according to industry standards set forth by organizations like the American Heart Association (AHA), American Red Cross (ARC), and Health & Safety Institute (HSI). EMC's comprehensive sales support ensures preparations against emergencies and ongoing compliance adherence.
Important Takeaway: 
At EMC, we offer more than just AED sales. We provide comprehensive support, including helping you choose the right brand, crafting an effective program, navigating legal requirements, and offering custom onsite CPR/AID training programs. It's not just about selling a device; it's about empowering your team to handle emergencies effectively.
FAQs about CPR Classes Cincinnati
Why is CPR training essential?
CPR training equips individuals with the skills to respond swiftly and effectively during cardiac emergencies, potentially saving lives.
Why is CPR not taught in schools?
The inclusion of CPR education in school curriculums varies by state regulations. However, it's gaining recognition as a crucial life skill for students.
What are some of the new changes to CPR?
New updates focus on simplifying procedures and emphasizing chest compressions over mouth-to-mouth resuscitation for lay rescuers.
How long is CPR training good for in Ohio?
In Ohio, most standard certifications from recognized institutions like AHA or ARC remain valid for two years after completion.
Conclusion
Onsite CPR training to learn CPR is a game-changer.
Your personnel, furnished with the proper aptitudes, can be a deciding factor in an urgent situation.
Taking CPR classes Cincinnati offered by EMC provides this vital knowledge.
The benefits are undeniable – improved safety and boosted confidence among your staff members.
With programs from AHA, ARC, and HSI available for onsite training at EMC, you have quality options to choose from.
Beyond teaching lifesaving techniques, we offer comprehensive sales and program management services for major AED brands.
It's about creating a safer environment where everyone knows how to respond when every second counts.