Indianapolis CPR Training
EMC CPR & Safety Training, LLC offers CPR training in Indianapolis and throughout Indiana.
Why CPR, AED, and First Aid Training Classes Are Important
Did you know that Sudden Cardiac Arrest (SCA) is the most common cause of death in the United States? SCA is a severe condition that occurs when the heart's electrical system malfunctions and the heart can no longer pump blood into the brain and vital organs. SCA can affect both children and adults. When CPR is performed and an Automated External Defibrillator (AED) is administered within the first three to five minutes of someone collapsing, the victim has a 75% greater chance of survival.
CPR pumps blood to the brain and vital organs, while an AED delivers a shock to the heart that gets it to beat effectively again. CPR classes cover CPR, basic life support, and emergency scene assessment. The AED portion of the classes shows you how to operate and maintain an AED. First Aid training covers topics like responding to sudden illness and injury, breathing emergencies, and bleeding.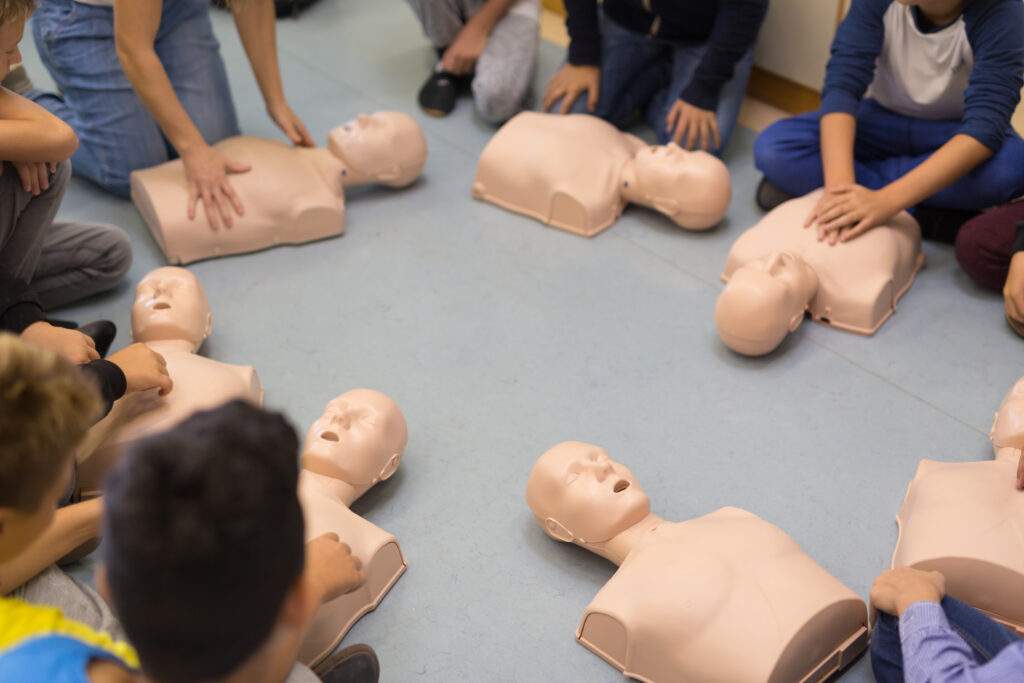 Be Prepared and Be in Compliance
EMC provides on-site training options to meet the needs of organizations, workplace responders, and healthcare providers. Our certified instructors train your employees in First Aid, CPR, and AED usage. Our dynamic courses include video-based instruction, group discussion, and plenty of hands-on practice. We provide comprehensive training that allows your employees to learn critical information that could help them save a life.
Owning an AED alone isn't sufficient. Ongoing AED training, management, and maintenance are critical to preparing for an SCA event. EMC provides a total solution for AED program management. We help you set up a program to ensure your AED is properly maintained and your staff is prepared to respond during an emergency. We can help you with the following:
AED sales and accessories
On-site AED inspection and training
Medical prescription and oversight
Automatic notifications when critical actions must be taken
Tailored policies and procedures for your AED program
Whether your AED program consists of one AED or multiple AEDs deployed at various locations, EMC can help ensure that your AED is ready when you need it most.
Take Action and Save Lives with EMC's Indianapolis CPR Classes
Prepare to save lives with Indianapolis CPR training from EMC. We equip the people of Indianapolis with life-saving skills that prepare them to respond during emergencies. We serve business, non-profit organizations, schools, and more in the greater Indianapolis area.
EMC's CPR classes are practical, effective, and hands-on. Our training meets and exceeds American Heart Association (AHA) requirements and also meets OSHA requirements.
Contact EMC today to schedule CPR, AED, and First Aid classes throughout Indiana, including Indianapolis, Fishers, Carmel, Fort Wayne, Bloomington, Elkhart, South Bend, Jeffersonville, and surrounding areas. Please call 1-317-383-0247 or 1-800-695-5655 or fill out our online contact form! We offer the training, information, and support you need to save a life!