CPR Classes in Philadelphia, Pennsylvania
1735 Market Street, Suite 463
Philadelphia, PA 19103
*By appointment only.
** We do not accept mail at this location. Please direct all correspondence to our NJ address.
Below is the Philadelphia  area in which EMC CPR & Safety Training, LLC offers CPR/AED & First Aid Training.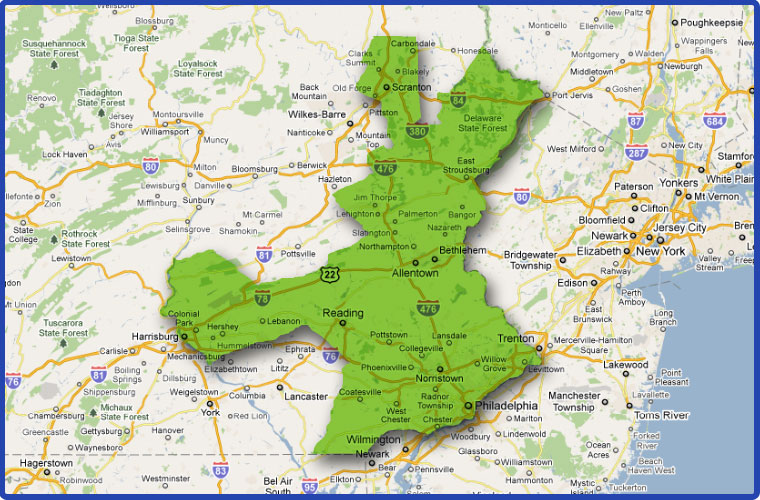 CPR in PA: Top 8 Reasons Why You Should Take CPR Classes in Philadelphia, PA
Are you thinking about learning CPR in Philadelphia? It's no secret that CPR saves lives, but CPR training can only make a serious impact if everyone, regardless of their age or occupation, learns CPR. Explore the top 8 reasons why you should take CPR classes in PA below.
1. Approximately 80% of sudden cardiac arrests happen at home.
If you learn CPR in Philly, there's a far greater chance that you'll perform the procedure on a loved one rather than a stranger since the majority of sudden cardiac arrests happen at home.
2. Brain death and irreversible damage begin four to six minutes after sudden cardiac arrest
In order to be effective, CPR must be performed immediately after someone undergoes sudden cardiac arrest. It only takes a few minutes for permanent brain damage and death to occur following cardiac arrest.
3. About 5,900 children under the age of 18 suffer out-of-hospital cardiac arrest each year
Are you a parent? If so, taking CPR classes in Philadelphia could very well save your child's life in an emergency. Contrary to popular belief, sudden cardiac arrest doesn't just affect adults. It can happen to anyone, including infants and children.
4. It's easy to learn
Studies have shown that children as young as 9 years old can learn to perform CPR. Now that compression-only CPR is being advocated, CPR has become easier to learn than ever before. If you want to learn CPR in Philadelphia, PA, you'll find classes offered throughout the area. Many trainers even teach on-site at your home or facility.
5. CPR can double or triple a victim's chance of survival
The phrase, "CPR saves lives," is no understatement. According to the American Heart Association, effective bystander CPR that's performed immediately after sudden cardiac arrest can double or triple a victim's chance of survival. People die every day from cardiac arrest, partially because friends, family members, and bystanders don't know how to perform CPR.
6. It doesn't take long to undergo CPR training
In just one morning or afternoon, CPR classes in Philly will arm you with the skills you need to respond appropriately in an emergency.
7. Heart disease is the number one cause of death in the United States
About every 25 seconds, an American has a coronary event, and about every minute, an American dies from one. You can play your part in dramatically reducing these dismal figures by learning how to perform bystander CPR in Philadelphia. A sudden cardiac arrest victim only has about ten minutes to live. The earlier that CPR is initiated, the greater a victim's chance of survival. By performing CPR on a cardiac arrest victim, you can "buy time" till emergency medical personnel arrive to provide early advanced care.
8. In more than 50% of cases, sudden cardiac arrest occurs with no prior warning signs
If you live with someone who has or is at risk of heart disease, taking CPR classes in Philly may be a no-brainer decision. But in more than 50% of cases, sudden cardiac arrest can occur with no prior warning signs, which means just about everyone would benefit from learning CPR. You never know when your skills could come in handy and save someone's life!
Learn CPR in Philadelphia, Pennsylvania
EMC CPR & Safety Training, LLC offers a full spectrum of CPR courses in Pennsylvania. We provide on-site training throughout Philadelphia, Wayne, King of Prussia, West Chester, Doylestown and surrounding areas,. For more information or to schedule a CPR class in Philadelphia, please call 1-800-695-5655 or fill out our online contact form!